This page has been visited
times.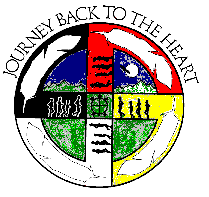 Journey Back to the Heart

In October of 1995, a vision was given, showing many people coming together on a life altering journey. In the summer of the new millennia, the year 2000, relatives will begin traveling from their homes to the Heart of Turtle Island, the Black Hills in South Dakota. In route, they will visit different communities and Sacred Sites; meeting and praying with many different relatives. Spiritual Leaders are working toward coming together at the center, during the summer solstice(June 21-22, 2000) for a Spiritual Conference, World Healing Ceremonies, and World Prayer for Global Peace, Respect, and Unity.

In preparation for the Journey Back to the Heart, we are asking our relatives to join in a four day ceremony. The purpose of this ceremony is to begin an even deeper level of preparation for the Walk and Spiritual Conference which will "culminate" over the New moon, July 28-31, in the year 2000.

We are asking our relatives to begin this ceremony on June 21,2000 and continue though to June 22,2000 over the summer solstice. We are asking any relative that has a sweat lodge to light the fire on that date and go into sweat 3PM(estimated-daylight saving time). We are aware that there are many, many sweat lodges all over this world. If all of us come together and pray like this at the same time the prayers will be strong and we will be able to concentrate our energies toward our personal commitment to the walk and toward the ultimate goal of unity within the sacred hoop of life.

If you cannot sweat you can still participate by any concentrated form of prayer at that time, on that day. Keep these prayers strong in your heart throughout the four days. And know that we all come together in the year 2000.

---

Black Hills - 2000 - Be There!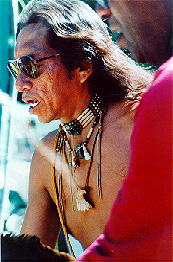 Interview with Wanbli Gleska Cikala
In October 1995, the vision of Journey Back to the Heart was given to Wanbli Gleska Cikala, Little Spotted Eagle. In this vision he saw many people on a spiritual journey. They would come from all the directions, joining together at the "Heart", the Black Hills. He saw this was to happen in the year, 2000. This month I sat down and spoke with Wanbli about the purpose of Journey Back To the Heart, the following is his response.
Sande: There are already hundreds of walks and runs being conducted throughout the World, what is the purpose of Journey Back to the Heart and why the Black Hills?
Wanbli: I believe that it is already happening. The Spirit is already bringing them in by the millions disguised as tourists. I don't know what it is, but I know it's already happening. It's time to get it going.
Sande: Get what going?
Wanbli: I believe there is a spiritual change coming - new thought changing - thinking differently about prayer. I believe recognizing Spirits, you know, I believe it opens up our hearts - compassion - all the virtues - love and everything. I think through this spiritual journey it brings discipline in everyday life. You can walk, drive, fly, whatever you need to get there and I believe its a spiritual - I know it's a spiritual event. We're going to have a lot of physical people there, but we're going to call upon a lot of Spirit.
Wanbli: Do you believe we're disconnected?
Sande: Yes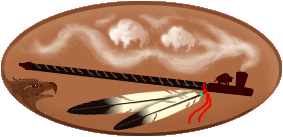 Wanbli: I believe we're disconnected, too. From spirit, nature, ourselves, our families, other families throughout the world. And I believe for many of us - on our present journeys - present moment - in this world there's a lot of suffering. One of our uncles said we are born with a Sacred Pipe in our Hearts at birth and I believe in order to awaken the sacred Pipe in our heart, one of the journeys is called the Journey Back to the Heart. Some say the Pipe originated in the Black Hills the Heart of the western hemisphere, of Turtle Island. Being on the Journey on foot, or by plane, car, train, bike, you're making a spiritual journey back to the heart, it's on a spiritual as well as physical level. I think on September 20, we're going to do a sweat lodge ceremony across the world, in the Spirit World, other worlds, to purify our spiritual hearts. 1PM (mountain standard time). So, we ask for your prayer and support in any way.
Aho, Mitakuye Qyasin



Tapes
The tape - I'm Sending a Voice - Part 4, featuring the theme song for Journey Back to the Heart, is currently available by contacting the Journey Back to the Heart home office. This tape, offered by Relations Records, is a selection of ceremony songs sung by Wanbli Gleska Cikala, Little Spotted Eagle. A portion of the proceeds are being donated by him to the Journey Back to the Heart.
(Funding has been donated to record a single of the Journey Back to the Heart theme song. The projected release date for this tape is July, 1998.)


Song clip by Wanbli Gleska Cikala and Keya Win
Prayer Song - I'm Sending A Voice - Eyaya Hoye Wayelo

T-Shirts
The Journey Back to the Heart t-shirts are now available. The t-shirts have a white background with the Journey Back to the Heart logo printed on the front. Sizes currently available are M, L, and XL . Each t-shirt comes with a card telling about the "Journey" and information about the artist, Jim Yellow hawk. In fact, the cards are so nice that we've decided to have more printed and offer them as note-cards. The t-shirts are priced at $15.00 with the profits going to Journey Back to the Heart. T-shirts can be ordered through the Journey Back to the Heart home office (in Ohio) at (614) 497-8256 or through the Virginia Co-ordinator: Pam at (757) 850-4844. ( We'd really like to thank the Virginia group for their hard work in setting up the t-shirt project.)

Order your 'Journey Back to the Heart' T-shirt Today!

State Representatives
As the movement of the "Journey" is growing more volunteers are coming forward to aid in the organization and networking of the walk. Several have volunteered to act as state representatives. These state representives will be available as a communication-co-ordination center for their state.
Florida: Toni Schmitt; 1501 sw Albedo; St.Lucile, FL 34953( 561)336-1322
Georgia: Marlene Millard; 199 North Ave.; Rome, GA 30161 (706)234-6250
Indiana: Angie&Steve McKeown; 17629 Palmer Road; Moore Hill, IN 47032 (812)744-5040
Kentucky: Jerry Coop; 939 Chestnut; Jefferson, KY 47030 (812)282-3923
Missouri: Linda Bennett; 34020 Wood Lane: Duke, MO 64561 (537)435-9537
New York: Mike Albin; 172 Case; Frankfort, NY. 13340 email: malbin@utica.garnett.com
Ohio: Nora Crumbly; 1527 Westwood Dr.; Lewis Center, OH (614)548-1109
Virginia: Pam Francis; 128 Sesco; Hampton, VA. (757)850-4844
Washington: Jenny Waddell; (506)323-0105
Help Wanted!!!! Volunteers Needed
We are always looking for Volunteers to aid the Journey Back to the Heart. In addition to state representives, we are looking for local area representives, and help within the home office organization. Become a part of this effort,
VOLUNTEER TODAY!!!!



Journey Back to the Heart

E-mail Us
Attn: Sande Garner
P.O. Box 07705
Columbus, OH. 43207
United States


List of links
Native American Stories, poems, and Horses
Great Photographs